Professional Mold Inspection Institute offers interactive mold training courses to learn residential mold inspection, mold remediation, and commercial mold inspection. Â With the online interactive courses in the mold package from PMII, you will learn about mold, fungus, indoor air quality, inspection standards, mold remediation protocols, and more. Â The courses not only teach you how to perform mold inspections according to nationally recognized standards, but the courses will also teach you how to run a successful mold business.
HOW DO ONLINE MOLD COURSES WORK
The courses are interactive so you will have a username and password to log in to the courses online, go through online course content, and take practice quizzes and exams. Â You will also receive a package in the mail that will contain course cd-roms (Residential Mold Inspection Course, Commercial Mold Inspection Course, Mold Remediation Course, and Mold Remediation Protocols). Â Each course cd-rom contains all the information from the online courses so you can go through the courses without the need to be connected to the internet.
(Internet connection required for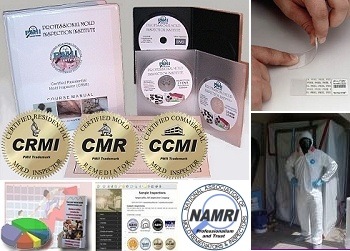 BONUS:
Along with the course cd-roms, you will receive a mold inspection dvd video and mold course manuals. Â You also receive Forms cd-roms that have templates for mold inspection checklists, mold inspection reports, and pre-inspection agreements. Â The forms are included for free with purchase of the mold course package.
---